Upgrading your patio, deck, or backyard landscape can seem intimidating at first. However, it does not have to be an expensive or time-consuming process. Not to mention, as summer approaches, you'll be glad you dedicated the time to improving your outdoor living space so that you can enjoy the warmer weather.
Here are a few ways you can easily, and inexpensively upgrade your patio.
DIY Outdoor Seating
Creating do-it-yourself seating for your backyard patio is a fantastic alternative to the significant investment required to purchase furniture. This might not even cost you anything at all depending on the materials you have available at your disposal.
While there are many options for making your own outdoor seating, one of the easiest is to use concrete blocks. Simply stack the blocks to an appropriate height and shape, line with a cushion, and throw a few pillows on top. This type of seating can be incredibly comfortable, and can perfectly match the aesthetic of your patio.
Lighting
Applying unique, decorative lighting to your backyard landscape is a great way to improve the ambiance that surrounds your patio, and there are several approaches you can take to do this.
String lighting is one of the cheapest and easiest to set up lighting methods for any backyard. You can hang these lights from trees, hang them over bushes, and spread them across your backyard to provide an incredible lighting arrangement.
Accent lighting is an ideal way to emphasize certain aspects of your patio that you think deserve extra attention. Lightology provides an excellent guide which details exactly how you can use accent lights to create a wonderful aesthetic.
Lastly, hardscape lighting is a great way to bring life to hardscape features such as brick or stone bars and retaining walls.
Vertical Gardens
Vertical gardens are the perfect way to upgrade the appearance of your patio area while going green and without breaking the bank. Vertical gardens can provide your backyard with character and style.
All you need to get started is a blank wall, some scrap wood, and something to plant.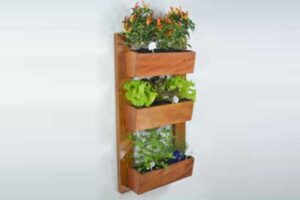 Incorporate Stone
Incorporating stone is an easy way to instill a natural, comfortable feeling to your backyard while adding some variety to your decor. Stone can be used to create decorative walkways or to add a new seating area.
Add a Fireplace
Adding a fireplace to your patio is sure to make it feel more relaxed and inviting. A fireplace serves as a central gathering area for you and your guests to enjoy time together.
A fire pit can easily be put together with two materials: stone/brick and cement. Simply stack your stone or brick, seal with cement, and throw in some fuel. If your city doesn't allow an open wood fire, you can also opt for a natural gas outdoor fireplace.
Use A Unique Paving Material
Cheap paving materials such as gravel and crushed rock allow you to inexpensively develop walking areas without sacrificing style.
Alternatively, you can consider getting creative with the placing of your pavement if you choose a more traditional material like stone or brick. By spacing your pavement around swatches of grass, you can save on the amount of total material needed to pave your patio.
By taking some of these methods into consideration, you can easily upgrade the appearance of your backyard and patio area without sacrificing your hard-earned money.