Fall is a favorite season among many homeowners, but as the temperatures dip and the leaves change, comes the reminder that you must prepare your outdoor spaces such as patios, sundecks, porches and wood decks for the harsh winter elements that are just around the corner. Preservation and preparation for the winter months can help your deck withstand the harshest of winter weather. When the spring season finally breaks through at the end of March, you will be ready to pick up right where you left off. Learn how to prepare your deck for harsh winter weather with the right maintenance plan and it will withstand many winter seasons and continue to look rejuvenated year after year.
Deck Preparation For Winter
Clean Deck: Months of food and drink spills, heavy foot traffic and barbecue stains, in addition to the extreme heat exposure, means your deck needs some love and care before the winter. The dirt and stains need attention before winter. In order to clean your deck properly, give it a good sweep and remember to use a non-bleaching agent to strip away the dirt. Cleaning will help prevent mold, bacteria and other wood-eating elements to infiltrate the wood after a harsh summer of exposure and use. Look for a cleaner that is formulated specifically for wood and it will go a long way in helping restore the deck's original finish.
Inspect and Make Minor Repairs: Look for places where the wood may have unfortunately cracked, is warped, or is deteriorating. Now is the perfect time to replace boards if needed. Also, inspect the nailing and construction of your deck and replace with deck screws for a tighter fit in loose places such as stairs, handrails, or in heavily trafficked areas.
Apply a New Layer of Protective Finish: With a nice clean and even surface to work with, apply a new coat of protective finish to give your wood deck the barrier it needs against the cold winter weather. The finish must be water-resistant to ensure that the wood is capable of blocking out moisture such as snow, rain, and ice. If you fail to apply a water-repellent to your wood deck, it will have a difficult time recovering with each passing winter. As moisture gets into the cracks of the wood and freezes, it causes your deck or outdoor space to crack, warp and even split. This will result in costly repairs and replacements when a simple maintenance routine can easily avoid it.
Properly Store Summer Accessories: While your deck is the most important, homeowners shouldn't neglect the other items that are utilized on decks, porches, and sundecks during the warm summer months. While you are cleaning your deck, take the time to hose down with soap and water, items such as tables and chairs. Store them in a garage or use a heavy tarp to protect them from the weather. Clean your barbeque and store it with the use of a heavy-duty cover. Be sure to disconnect gas lines as well, especially with portable tanks. For gas line grills, turn the valve off.
Protect Your Deck
Whenever possible remember to remove as much from your deck as you can. The more items you keep stored on your deck, the more places there will be for moisture to get trapped. Remove items such as flowerpots and small accessories and store them in a shed or garage. Flowerpots especially have a tendency to stain a deck because they are very heavy and leave rings around your deck if they are stationary for too long.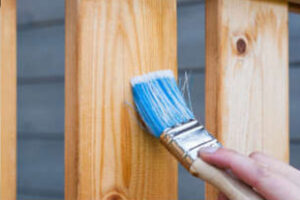 Deck Maintenance Works
A deck is an important space for many homeowners. It can get a lot of use during the summer months. It should also be considered an investment and an important part of your home that, like everything else, benefits from a solid maintenance plan. Keep costly repairs at bay with an upkeep plan that makes sense and can prevent major structural damage to your home. Decks can be costly, but it's far cheaper to properly maintain them.