As a deck owner, it is imperative to look for ways of taking good care of your composite or wood deck material in the same way you would look after any expensive item that you have. More specifically, as a thoughtful deck owner, it's likely that the cold winter months have made you wonder…
Should Snow Be Removed From Decks?
When it comes to snow and ice, your outdoor deck is designed to withstand more weight when compared to other structures such as your roof. Even then, getting rid of any snow from the deck is considered a great safety measure.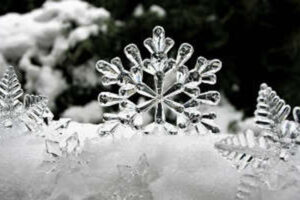 The following tips can help you prevent damage and destruction of organic or synthetic decking material when you are removing ice and/or snow that has accumulated after a winter storm.
Prepare Your Deck Before The Snow Begins
As a homeowner, there are several moves that you can make to ensure that you have a well-protected deck. One of these moves is to take a safeguarding step, AKA a preventative step, way before it even begins to snow.
The first measure you need to undertake is to clear away all the potted plants that are on your deck. Once you have done that, it also a great idea to use a water-resistant tarp to cover any patio furniture that may be present on the deck and which you don't intend to store inside.
Use a soft brush and soapy, warm water to get rid of the mold, the leaves, and another kind of debris that can deteriorate the surface of your deck. To protect your deck further from too much moisture, use a high-quality seal that can also resist water.
It's true – you don't need to take these preparatory steps, but you will be glad you did once winter is upon you.
Use The Correct Shovel
When removing ice or snow from your deck, a plastic shovel is the best tool to employ. This is because metal shovels and a number of other sharp tools can bring a lot of destruction.
Commonly-encountered decking materials such as cedar or redwood are known as "softwoods," which means that they may easily scratch if you don't use a plastic shovel when removing snow or built-up ice. However, even the most durable composite decking materials are not totally resistant to scratching and the other types of destruction that a metal shovel can cause.
Once you've got your plastic shovel and you're ready to get to work, keep in mind that as you're removing snow from the deck, you want to go with the deck board's "grain" as you shovel. It is also better to shovel parallel to the deck boards as opposed to doing it across – you don't want to work perpendicular to the "grain". In this manner, you are less likely to cause scratches or otherwise corrupt the surface of your deck boards, regardless of the material.
Use A Broom
Whenever possible, and especially when snowfall is considerably light, you should try to use a broom to remove snow from your deck. Your deck's surface cannot be damaged or scraped by the soft bristles of a broom. Similarly, brooms are preferred over shovels when removing snow or ice from deck rails and other deck surfaces.
As with snow shovels, be mindful of brooms with metal components that may, in one way or another, come into contact with the surface while you're cleaning and damage your deck.
Do Not Use Salt!
Some people have used salt for the purposes of clearing a deck of snow without understanding the significant damage that it can cause.
Most notably, salt is quite effective at drying out the wood in your deck. In addition to this, salt damage can even extend to other components of your deck including but not limited to joist hangers, screws, and nails that are used to join the wood at various points.
Lastly, salt can cause all these aforementioned components (and more!) to corrode. When this occurs, you may end up with a very unstable deck that could collapse due to the damage. As you can imagine, if anyone happens to be on top of, or even nearby to, the deck when it gives way, they may suffer significant injuries.
Sand, Gravel, & Rocks
Gravel, rocks, and sand can also cause a great amount of damage to your deck. These materials are capable of grinding down the composite or wood surface and cause substantial damage. Once more, you should avoid these at all costs.
Steer Clear Of Dyes And Colorants
Many homeowners opt to use a form of ice melt rather than salt. While these are often safer options for pets and children, many products contain dyes or colorants. Be careful if you chose to disperse these products on your deck boards as the dyes can permanently stain composite or wood decking in some cases.
Leave A Layer
There are countless other reasons why it is important to get rid of the snow from your deck.
One of these is to ensure that the weight which your deck is supporting does not become too much. If this is the main reason for which you chose to remove snow from your deck, then consider that it is equally important to leave a few inches of snow behind, as a thin layer can help to prevent you from scraping the wood.
It's so important that it bears repeating – although we always recommend and advise that it's best to use a plastic or rubber-blade snow shovel, you should remember that any shovel, no matter the material, can scratch the surface of your deck boards.
By initiating these simple precautions, you can rest assured that your deck will be safe from damage during snowstorms and ready for use again in the spring.