Winter, for many of us, remains a slow season. Unlike spring or summer, winter is usually too cold for us to spend too much time outside. However, this does not mean that you should laze around watching TV all day. There are fun things to do. Instead, think of handyman projects around your house. Perhaps it is an all-new project within your home. Better yet, fixing and repairing some of the broken stuff here and there. In this review, we have compiled a list of home projects you could consider during this winter.
Kitchen Renovations For The Upcoming Family Meals
Winter comes with exciting holidays, and that means family gatherings. This year's season does not have to be all mistletoe and feasting. You could put some of your great ideas on renovating your kitchen for the upcoming big meals. Some of these exciting projects may include:
Remodeling your kitchen into an exciting shape as a little project
You may consider putting up a new counter to surprise some of your visitors. Do not let your expected visitors get bored with the same old rusty counter for years. This winter let them appreciate a sleek refurbished kitchen counter.
Instead of sticking to your old habits of fixing broken cabinets, think of some new elegant shelves. Shelves add a modern touch to any kitchen. Furthermore, shelves allow space opening for your kitchenette making it look improved.
Finishing Your Basement
You might need a contractor's help in finishing your basement project left unattended. Think of tasks like painting your basement wall to the color of your desire. Alternatively, you could also think in terms of flooring. Demolition tasks may not require a contractor's help hence do it alone. It may save you up some little coins for a contractor. With all that idle time indoors during this winter, put some thoughts into these tasks. You could also consider installing an efficient drainage system. During the winter, it is easier to spot the annoying and recurring basement floods that you would want to do away with.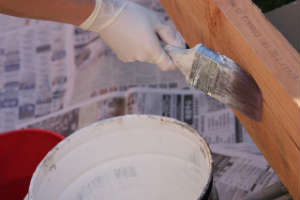 Gutter And Roof Cleaning
Just like the decks, you are probably wondering how to do these cleanings. Working on your roof and gutters subzero temperatures is not all that you desire. It remains a tiresome and painful handyman's job but remains essential. Consider these reasons as a motivating factor for doing tending to your gutter and roof:
Snow-filled gutters are good pest harbors, especially for rodents. Snow acts as a good insulator hence making good pathways for large rodents
Cleaning gutters are utterly important. If left unclogged, frozen heavy water may damage your roof by weakening them. This may not be desirable as roof repairs may not be as cost-friendly as you may think.
Install Your Decks
You could also put some consideration into your yard. You are probably thinking of how you could replace your decks yet it is cold out there. It is all possible! Just wait until it starts thawing. The late winter phase may really be useful. Once it starts to defrost, all that falls into your mind are the upcoming summer months. While many people install their deck during that time, you could go against the crowd. Try something different this winter season by installing a deck. If you already have a working deck, then consider fixing it. It probably needs some here and there repairs before the summer months finally kick in. I bet you want to have some easy time making barbecues in the nice spring evenings.
Carry these home projects at less cost this winter. They will save you a couple of hard-earned dollars. Besides, you are guaranteed a perfect house during winter. Spend less energy and make your home a better place.
Do Some (Limited) Gardening
While winter is not the ideal time for growing flowers or vegetables in general, it is still possible to grow hardy plants such as cactus that can withstand cold weather conditions if done right and protected properly from the elements. If you want to grow some flowers instead, you could try planting pansies in pots as these can survive the winter months as long as they are taken care of.
The best time to do most gardening is usually around the end of winter, when the most sensitive plants have likely already succumbed to the lowest temperatures. Also, it's always good to keep in mind that, if you have potted plants outside, you can bring them indoors to ensure they make it through the winter.
Fix Cracked Flooring
Within the walls of your house, there is probably flooring that needs repair. Most likely, it will be a small patch from a leak or some rain damage . Within this area, you could remove the cracks you find and fill them with joint compound or epoxies. Be sure to take note of the direction and spacing of the cracks when doing so. You would also have to form the patch by hand since most auto body filler tools are not usable within this area.
Repair or Upgrade Plumbing Fixtures (Toilets & More)
Even though it is not usual to see a good many plumbing fixtures break down during the winter, it happens either from some damage you have made upon cleaning them or the constant freezing and thawing that they are exposed to. If your toilet bowl is cracked, overhaul it by removing the broken pieces. Then do a nice job of re-grouting. When this fails to work, just change the entire toilet bowl if possible.
For leaking faucets and taps, you could fix them yourself as well. A small job such as this presents a great opportunity for you to practice building skills that would come in handy for bigger projects in the near future.
Install Interior Lighting (Or Make Repairs To Existing Ones)
Interior lightning can go a long way when it comes to changing the look of the inside of your home. Installing lights also gives you a sense of security, especially at night. It is possible for you to install some new lights on your home but beware of poor wiring. Check with an electrician to make sure that your home's wiring is in good condition before making any changes.
Improve Air-Ducts & Ventilation
As a common problem, air-ducts and ventilation system requires regular maintenance and attention. This would mean that you should get them cleaned often and check the filters on a regular basis to ensure that they are working properly. Also, make sure that there are no gaps between the vents in your ceiling. If necessary, you can close off these gaps by setting up some plastic vent covers. You can also try installing exhaust fan motors if you have storage space beneath the fans which can be really helpful at times.