A deck can be a great investment in your home. Having a comfortable outdoor space helps make your home more inviting and provides a great setting for relaxation at the end of the workday and over the weekend. Decks also can help boost the value of your home if and when you decide to sell.
Once you've made the decision to have a deck installed and the project is complete, it's important to do the necessary maintenance to make sure your deck maintains its peak condition. A solid cleaning regimen is key – however, it's important to make sure your cleaning routine is appropriate for your specific deck. Here are some things to keep in mind if you're trying to draw up a maintenance and cleaning routine for your deck.
How To Safely Power Wash A Wood Deck
Power washing can be an incredibly efficient way to clean your deck, but it's important to know what you're doing. There are some simple mistakes that could end up causing serious damage to your wood deck.
Power washing is not recommended for composite decking, as most composite deck materials are too soft and easily prone to damage from high water pressure. If you're looking to clean a composite deck, make sure to find cleaning products specifically designed for your type of deck.
Here are some ways you can make sure your power washing is done safely:
Start your water pressure extremely low and work your way up, finding the lowest pressure that still allows for effective washing. A starting point of 500-600 is a good rule of thumb.
When you're starting the water pressure, always depress the trigger facing away from people and glass windows and at least 2 feet from the wood deck, then slowly moving it into a range of about 12-18 inches from the deck.
Soft woods like cedar and pine only need between 500-600 psi. Even for harder woods, you should never go higher than 1200-1500 psi.
Use a fan tip.
Try not to get within less than 12 inches of the deck unless the pressure is extremely low.
Test your pressure on less important areas before using it on your deck.
Power washers work great for large areas, but you may need to get on your hands and knees and do some hand washing and sweeping to get the smaller crevices of your deck.
Staining and Sealing
After you've finished cleaning the deck, it's time to think about staining and sealing. A new staining will help restore your deck to a like-new color and sheen while sealing the deck can help protect it from the elements. Over time, rain, snow, and even sunlight can make your deck look old and in need of renovation. But a solid staining and sealing routine can help keep it looking brand new.
You can easily find out if it's time for a new sealing by using the water test. It's exactly what it sounds like – simply sprinkle some water on the deck and observe. If the water soaks into the deck immediately, it's probably time for a new seal. If the water beads on the deck, you probably don't need to reseal it quite yet.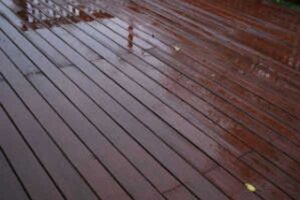 Developing A Seasonal Maintenance Routine
Deck maintenance can be simplified if you develop a seasonal maintenance routine.
We think washing and sealing your deck is best done in the late spring, once the weather starts to get warmer. Decks don't get much use in the winter, but decks are exposed to the harshest weather during this time. A good spring cleaning can help protect your deck from mold mildew and make sure it's in prime condition for the spring, summer, and fall.
Spring and summer are also good seasons to inspect your deck for any areas that could need repairs, such as cracks or signs of rot. Make sure to inspect the ledger, as this piece of framing supports the whole deck and is the cause of up to 90% of all collapsing decks.
If you didn't wash and seal your deck this spring, then fall is also a good time. It's generally best to do it when the temperatures are still mild, so September and early October are good times to do this. Do regular cleanings during the fall to clear off fallen leaves, sticks, and other debris. It's also important to trim nearby bushes and trees and make sure that they're less than 12 inches from the deck – this reduces the risk of developing mold, moss, or rot.